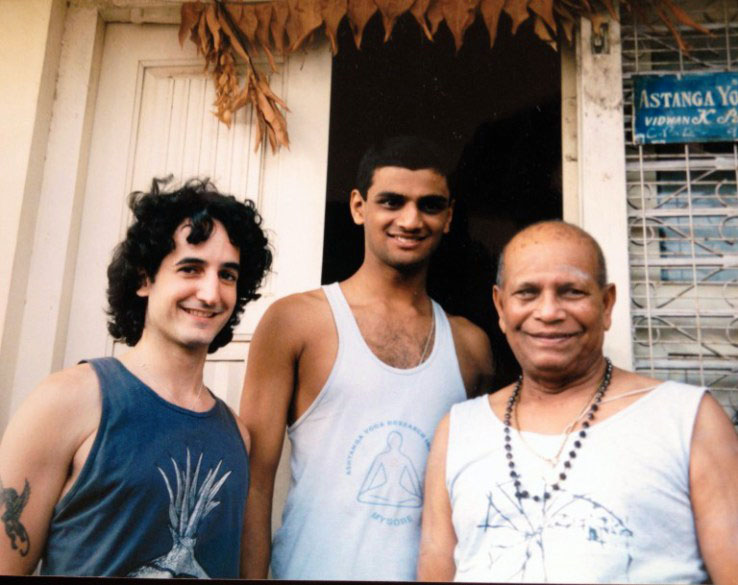 Greg Nardi has studied yoga and eastern healing arts extensively since 1996. Since 1999 he has studied at the KPJ Ashtanga Yoga Institute in Mysore, South India.
In 2004, Greg was authorized to teach by his guru, Sri. K. Pattabhi Jois. In 2009, at the age of 94, Sri K. Pattabhi Jois passed away leaving behind a legacy that has touched countless lives around the world. Shortly after Guruji's passing, Greg attended an authorization level 2 training course in Mysore with Sharath Jois. Greg is committed to honoring his teachers by spreading the ashtanga method, which has been such a blessing in his life.
He is an internationally renowned teacher of workshops in Yoga asana and philosophy. He and his husband Juan Carlos founded Ashtanga Yoga Worldwide a Yoga shala in Fort Lauderdale, Fl. in the United States.
He is an autodidact who perpetually studies Sanskrit chanting and indian philosophy. He counts Georg Feuerstein, Dr. M.A. Jayashree, Narasimha, and Vyass Houston amongst his influences in this field. He teaches yoga philosophy and Sanskrit mantra chanting as a faculty member of John Scott Yoga.
Greg's view on yoga respects the indian roots of the Yoga tradition and the parampara method of transmission while making these traditions intelligible to the western practitioner. His style of teaching assists students in finding the approach to the practice that is most beneficial for them.